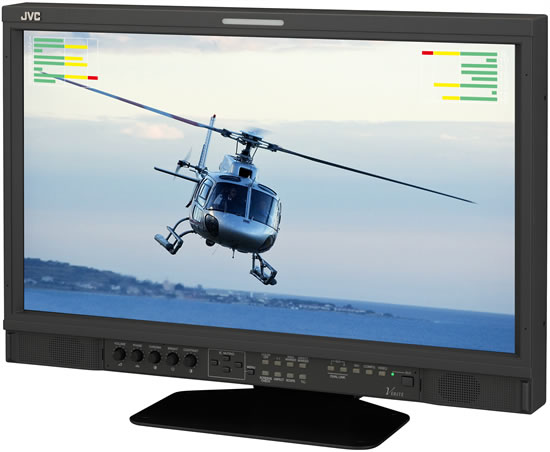 JVC has added the DT-V21G11Z 21-inch HD monitor to its high-end Vérité G Series of professional LCD monitors. The new model is the first in the G Series to be driven by mercury-free white LED backlighting. As a result, it consumes 20-30 percent less power than LCDs using conventional CCFL-driven lighting, but does not sacrifice its highly accurate image quality.
Ένα pro μοντέλο με ανάλυση 1920×1080 και non-glare IPS panel, το DT-V21G11Z δίνει στους επίδοξους βιντελήπτες εικόνα 178 μοιρών και 1,000:1 contrast με συμβατότητα με τα στάνταρ ITU-709 -standard color space- και HDTV εκπομπή.
Περιλαμβάνει και 3G/dual-link HD-SDI είσοδο και ενσωματωμένο ήχο ενώ το μόνιτορ έχει και σήμα 1080p/60 όπως και component και composite για εξοπλισμό και DVI-D για εικόνα Blu-ray.
Η επεξεργασία είναι 10-bit, υπάρχει vector scope και waveform monitor, επιλέξιμα gamma preset modes, LTC και VITC time code υποστήριξη και 16 καναλιών μέτρηση.
Πολλαπλές ενδείξεις και ειδικά κυκλώματα = low latency circuitry, ηχεία και digital closed captioning.
Είναι pro και έτσι το DT-V21G11Z θα είναι στα 3,595 δολάρια.
Related posts